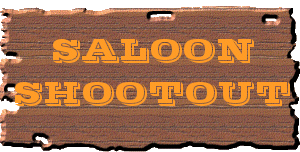 ---
---

The sun was already setting on the prairies, a tumbleweed rolled by, and Sheriff JP was enjoying a bottle of good old Jack Daniels Tennessee whiskey. As he sat down in a small chair, outside his office, nipping from his glass, a small cloud appeared at the horizon... JP squinted his eyes and spat a drop of plum tobacco on the ground. "Must be a horse, coming this way... Now I'll be damned if that ain't trouble!" he muttered to himself. He went back into his office, and took his guns.
By the time he had strapped them on, an exhausted youngster jumped into his office. "Sheriff, sheriff!" he shouted "y'all gotta get over to Daisy town! Koen and the gang are there, robbin' banks, harassin' the ladies an' cheatin' on them poker cards! You're our only hope, sheriff! Go kick their asses out of the saloon!"
20 seconds later, JP was on his horse, galloping towards Daisy town. But with him was his faithful Colt .45 Peacemaker...
---
Koen and the gang are the most horrible outlaws the West has ever seen! A huge reward has been placed on their head... Bounty hunters from all over the country have tried to catch them, but they all died miserably. Now it is your chance to kill them, or die trying...
| | |
| --- | --- |
| Koen 'sheepf***er' also known as 'panty man' and 'high heels man' is the leader of the gang. Mean, vicious and ugly, nevertheless he is a dangerous foe in gun fights. If he'd put a scratch on his gun for each cowboy he has killed so far, he wouldn't have a gun left! Except of robbing every bank he comes along, he would never turn down to stop at a sheep farm! Koen is also obsessed with theater (since movies don't exist in the Wild West). | |
| | 'Doc' Will is a dentist gone loco. Although not the strongest badass in the gang, he is without a doubt the most dangerous, because he is terribly sadistic. In his youth already, instead of sticking insects on barbwire, 'Doc' Willem stuck his classmates on the barbwire. At the age of 9, he left school with a diploma of dentist, and a number of dead teachers in the halls. Ever since, he's been traveling through the West, looking for people with tooth-ache to molest, or banks to plunder. He hooked up recently with Koen's gang, and quickly became the 'brains' of the group. (Which mustn't have been to difficult, considering that the average IQ of the other members of the gang is sub zero except of course 'Robbing' Robin) |
| With a mortal beauty, 'Crazy' Em is the only woman in the gang (unless the rumours about Koen are true). Em uses her charms to seduce poor, lonesome cowboys that are a long, long way from home and then robs them merciless. They should praise themselves lucky, because when she's drunk it could end much worse! One of her favorite moves is to expose her victims naked on the streets, their small willies for everyone to see. Many brave men were gruesomely humiliated this way, and struggle with a trauma for the rest of their lives. When the rest of the gang is robbing a bank, Emily always goes robbing a clothes store. She has also a predilection for burning things up. She is by far the meanest girl in the west! | |
| | 'Babyface' Wouter also known as 'the kid', is nothing to worry about. He has a friendly character and is always very polite. Before joining the gang, he worked as an assistant in a fish shop at the coast of Texas. An absolute loser with the ladies and his only hope is that he now finally can impress !any! woman with his over exaggerated stories. Babyface still believes that 'Crazy' Em will fall in love with him. Since she's the only woman he was ever able to talk to more than 5 minutes so he had no other choice but to team up with the other gangsters. He's not too bright, and not too quick with guns, so during robberies, he usually has to wait outside with the 'getaway horse'. |
| 'Robbing' Robin also known as: 'the giant', 'the love machine', 'dynamite Robin' and 'always standing tall Robin' is besides the brutal force also the second smartest of the group. He is also the most legendary of the group, his gunfight at the OK Corall, where he single handedly robbed a bank and shot down the Earp brothers and four other marshals, made him the most feared man of the west! Until today he denies that he shot the deputy, Bob Marley. He is the fastest and the most accurate shooter of the west, except when he has drunk more than one beer. At every town he leaves behind a dead sheriff, a robbed bank, and some sad females who will see the result in nine months. | |
| | Adriaan 'goody two shoes' is actually an undercover agent who has infiltrated in the group. You should try not to hurt him or shoot him. However, even if you tried, you probably would not be able to hurt him, since he is also incredibly strong. Above all this, he is also very good looking, and has a special way with the ladies. Most people like him instantly, and if they don't, it means they are crooks and belong in jail. Adriaan 'The Good' is also planning a political career, and he expects to be President of the Confederate States within nine years. He is good at everything, and also very modest. People should take him as an example! |
---
The concept of the game is very simple. You have a plate and behind the plate are several targets hidden. They appear randomly for a certain time, in this time you have to shoot at them with a laser, if you don't hit them quick enough your chance is gone and the target will fall back to the initial position. If you hit them, the target will fall back to the initial position and the score will be incremented on the display. The maximum score that you can reach is 99 points. It is very important that you reach as quick as possible the score of 99 points! So good luck.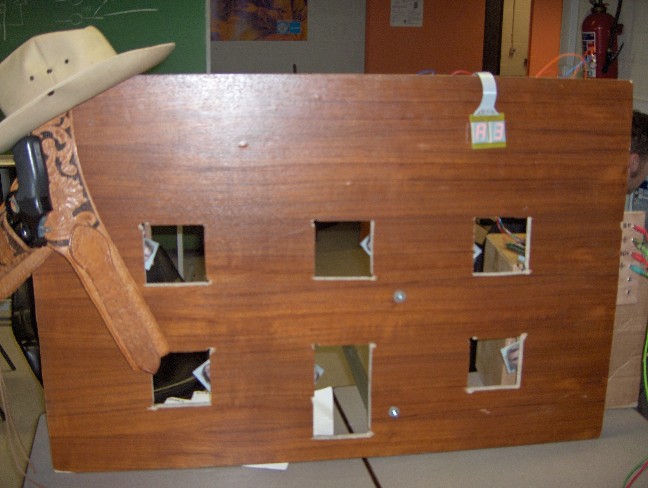 ---