The checkers algorithm and the image processing is working through code written in Matlab. The main file of the checkers robot can be seen below, we will not bore you with the code of all the inner functions of the program on the website. How the most important parts work is explained below.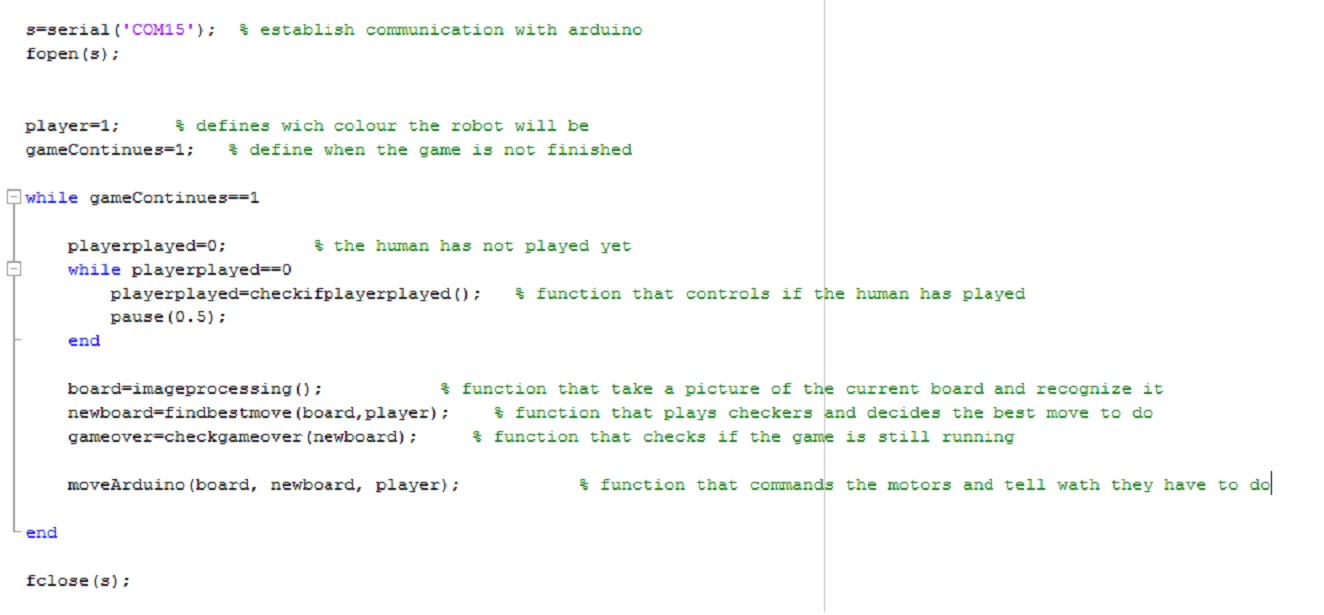 When the program enters the main loop, the first thing it will do is wait until the human player has played. This is done thanks to image processing, the program checks if there is a hand on the board, it is easy to recognise thanks to the colour of human skin.
When the player has played, the function "imageprocessing()" will return an 8X8 matrix with on each cell a number: "0" if there is nothing, "1" if there is a green peace and "-1" if there is a red peace. The working of this function is simple, the program checks the colour of the pixel in the middle of each cell and recognizes if there is a piece. For example with this picture: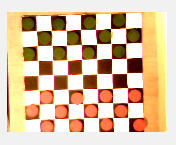 The program will return this: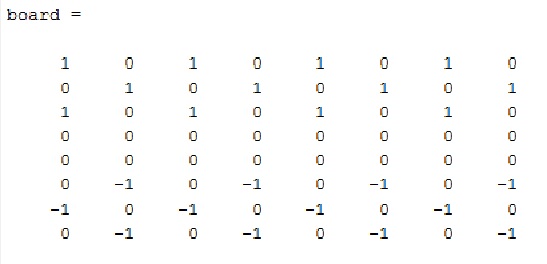 When the robot knows how does the board looks like, it can decide which move it will do. This is done thanks to the function "findbestmove(board,player)". This function returns how the board will look like once the robot will have played. This is the most complicated part of the program, it has to decide which is the best move that the robot can do. The robot checks all different possibilities and anticipates every combinations 5 turns in advance. So it can decide which move will be the most profitable.
In the example above, the function would return this: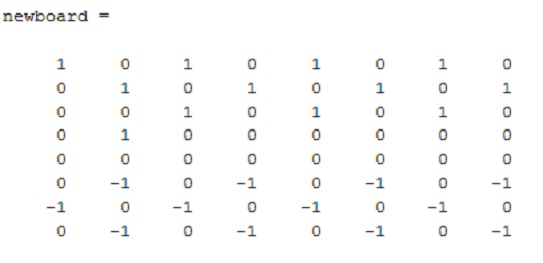 If the program could not do any move, it would mean that the game is finished and the function above would return an 8X8 matrix with only zeros. So the next function controls that it is not the case.
The next function is the function " moveArduino(board, newboard, player)". This is the function that gives the orders to the Arduino micro controller. By comparing the current board configuration and the new board configuration it will see which piece has to moved and where. The angles of each servomotor of the robots arm are calculated in function of the coordinates of the pieces that have to be moved. Once everything is calculated, the matlab code sends 4 angles to the Arduino for each move. It gives the necessary information to say to the robot where is the piece that has to be moved, and where that the piece has to be moved.